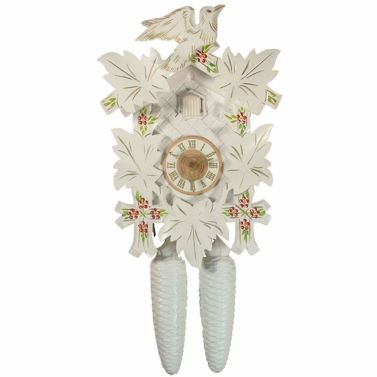 Chalet style cuckoo clocks are the most loved style of cuckoo clocks. These clocks usually depict themes common in the Black Forest region of Germany and Alpine farming lifestyles of the Schwarzwald. These clocks feature typical hand carved German Alpine house. And what makes these clocks so special is active animations such as wood choppers chopping, mill wheel turning, beer steins raising and couples dancing. All these details are handcrafted which creates an authentic piece of art.
Are you planning to buy your first Chalet style cuckoo clock?
When people decide to buy their first Chalet style cuckoo clock, many questions come in their mind. Today we will look at the things you need to know when buying your first Chalet style cuckoo clock. Let's have a look.
Manufacturers
These days finding a real cuckoo clock in the market is not an easy task. Make sure manufacturer you are choosing is a member of the Black Forest Clock Association. All the original cuckoo clocks are certified form the Black Forest Clock Association or Verein Die Schwarzwalduhr(VdS). In order to achieve VdS certification, the majority of parts of the clock should be produced in the black forest region in Germany, and clock must have a mechanical movement. This certification ensures buyers that clock is genuine, and of high quality.
Clock Movements
Chalet style cuckoo clocks have two types of clock movement: Mechanical movement and Quartz movement. Both types of movements have pros and cons. Traditional cuckoo clocks feature mechanical clock movements. Clock with a mechanical movement needs to be wound regularly in order for the clock to keep continue working.
There are basically two types of mechanical clock movements. One is the one-day movement, and other is the eight-day movement. The basic difference between these two movements is one-day movement clock requires winding after every 24 hours to give an accurate reading, an eight-day movement clock must be wound after every 7-8 days. Winding a clock is not a difficult task. You just have to pull a chain hanging to the clock.
However, if you do not want to regularly wind the clock, you can purchase a clock with quartz movement. Quartz clock movements are battery powered and do not require regular winding.
Music and Melodies
Chalet style cuckoo clocks are musical in nature, and no doubt, people love listening to whimsical melodies at the strike of every hour. Traditional Chalet style cuckoo clocks often feature traditional German songs and melodies. A Chalet clock that features beer drinkers is more likely to play songs such as "In München steht in Hofbräuhaus" or "Trink, BrüderleinTrink". Many people around the world consider music and active animations to be an essential part of their decision to buy a Chalet style cuckoo clock.
Night Shut Off
Worried about a cuckoo call and music playing at the top of each hour at night? Fortunately, you have a choice to turn off the sound at night. But all cuckoo clocks do not have night shut off feature, therefore, before you purchase your cuckoo clock ask about night shut off feature. Many cuckoo clocks have manual night shut off feature whereas some have automatic night shut off. Both types of options work well, but automatic night shut off have an advantage of automatically shutting the sound at night. However, manual shutting the sound is also not a difficult task. All you have to do is just pull a lever to shut off a sound.
Price
Price of Chalet style cuckoo clocks depends on various features such as size, movements, melodies, sound shut off, figurines and carving details. Large size cuckoo clocks with many active animations price higher than simple cuckoo clocks. Eight-day cuckoo clock movement will cost you more than its one-day counterpart. So the price of cuckoo clock varies as per features of a cuckoo clock. Price of cuckoo cock varies from $200 to $2500 according to features of the clock.
So these are a few things you need to know about Chalet style cuckoo clocks.