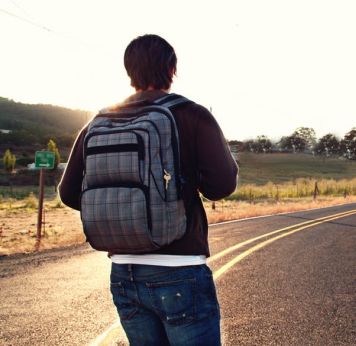 Storage space and Size
You need a backpack that has enough space to store your items: clothes, shoes, laptop, workout gears, phone, wallet, charger, keys, water bottle, and snacks. You should purchase a backpack that is big enough to hold a bit more than the stuff you want to store. But make sure that the size of the backpack should be proportional to the body. Too big or too small backpack won't balance the weight properly which may cause you back pain. That's why manufacturers suggest torso and waist sizes for each model they produce so you can easily choose the right size of the bag as per your physique.
Multiple compartments
Your CrossFit backpack must have multiple compartments. Whether you are buying your CrossFit backpack for traveling, toting gears to the gym or for office use, it must have multiple compartments so that you can store your necessities in an organized manner. Multi-compartment design allows you to create your own organizational system. You can break up your belongings into smaller sections which make it easier to access and find the stuff. For example, one or two compartments can be reserved for sweating garments and shoes. One compartment can accommodate clean clothes. Outer pocket can be used for stashing phone, charger, keys, and ID card. And, of course, one pocket accommodates snacks, energy bar, and eatables. Padded compartment can accommodate the laptop.
Durable and water-resistant material
Your CrossFit backpack should be able to protect your belongings from the rain. Choose a backpack which is made of water-resistant material. Your bag does not need to be 100% waterproof, but it should be made of semi-waterproof material which can provide protection against drizzle. Also, backpacks are subjected to abuse and rough use; therefore, look for a backpack which is made of highly durable material. Nylon, polyester and canvas cotton are the most popular backpack materials. These materials are highly durable, water resistant, and odor resistant. Also, nylon and polyester bags are easy to clean. You can wash these bags with water. There is no huge care required as in the case of leather bags.
Padded straps
Look for a bag with padded shoulder straps, hip belt, and back. Most of the load you will be carrying is pushing down on your shoulders and hips. Make sure your backpack has thick padding on the shoulders and hip belt. Padding help takes pressure off your shoulder, put less pressure on hips, and make carrying load more comfortable. Also, padded back creates little space between backpack and your back which allows air to pass through this gap and help keep you slightly cool. Choose the padding made up of single piece material as it would be less likely to split up.
Looks
Looks and style of the backpack is also an important factor to consider. The color of backpack depends on the purpose of its use. If you are looking for a backpack to carry in office, choose a decent color such as navy blue, black, or grey. Make sure your backpack does not have big logos. However, if you are a college student, you have more freedom to choose vibrant colors.
Lockable zippers
Look for a CrossFit backpack with lockable zippers because when you are traveling, you may need to lock your backpack. Make sure each compartment of your backpack has two zippers so you can lock them together.
Cost
Last but not least; once you know what you want to buy, compare the prices of CrossFit backpacks. Do not opt for a CrossFit backpack with the lowest price. Compare the prices of bags of similar qualifications. Compare the quality of material, padding, zippers, and stitching, and special features and warranty for bags. Then choose the bag that fits in your budget.
These are seven things you should look for while buying your CrossFit backpack.