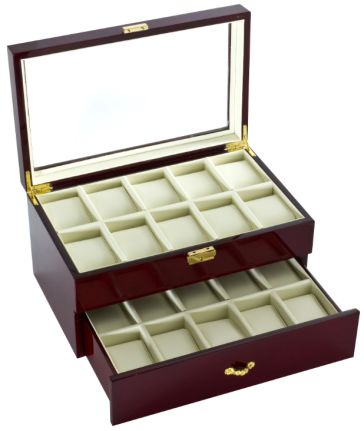 Have you ever had any materialistic dreams? There is nothing wrong with dreaming of that one valuable object that you have always wanted to get. In fact, it is this kind of materialistic craving that motivates individuals to develop expensive tastes, and hobbies that fit these tastes. One such hobby that tends to put a dent in a collector's wallet is watch collecting. Any watch collector will tell you that there is no bigger joy than finding an exclusive watch and making it a part of their collection. And contrary to what many people believe, that is not all there is to watch collections either. It is about the personal connection you develop with these valuable pieces of jewelry. It is just a feeling that cannot be described. And yet, the question that needs to be asked is whether this wonderful hobby can have another layer of personalization added to it. How is that possible? Well, getting a personalized watch box would be a great option.
Why is a Personalized Watch Box the Perfect Gift?
We all have that one friend who is an avid watch collector and who would do anything to take care of these precious timepieces. So, what is the perfect gift to enhance their collection? A personalized watch box! Considering how valuable their watch collection is, and how close they hold it to their heart, there is no better gift you can give them! Personalized watch boxes not only make classy gifts, but they also add that touch of personal value to a person's watch collection. Plus, since you have a plethora of choices when it comes to material, a number of watch compartments, and price range, you are most likely to find a personalized watch box that suits the needs of any person.
How to Buy a Personalized Watch Box Online?
Not sure how to go about getting a personalized watch box? Well, here are the steps you can follow:
Figure out the tastes of the person you are shopping for. Whether it is for yourself or for a friend, you first need to find out what kind of watch box you are looking for. A great way to narrow this choice down would be to see the kind of watches that are in the collection. Since there are watch boxes made out of all kinds of material ranging from steel to leather, you could get a personalized watch box that matches the material of the watches in a particular collection. If not, you could always decide what kind of material best suits the individual. HINT: You can never go wrong with a nice leather watch box. Nothing classier than that!
Think about what you are going to have engraved on the watch box. Regardless of the kind of material used to make the watch box, it is the engraving that makes this a perfect gift for somebody important to you. It shows that you really care. So, you can always have a nice, meaningful message engraved on the box. This could be anything: it could be meaningful lyrics from their favorite song, or an important quote that helped change their life. Whatever it may be, keep in mind that this is a present and that any heartfelt message is going to make it a much more meaningful one.
Pick the right font, styles, and placement. Once you figure out what you are going to engrave on the personalized watch box, the next thing to figure out is the kind of font you choose. You may underestimate the importance of the font and style of the text, but remember that it could set the tone for the message that you are trying to convey by giving this gift.
Now that we have walked you through the process of selecting and personalizing a watch box, you no longer have an excuse for picking out a bad gift for a watch enthusiast. Remember, a watch box is a classy gift that any watch collector would be happy to receive. A personalized message will be the cherry on top!