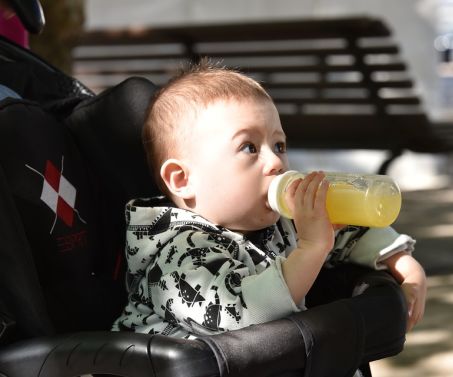 Well, this over concern of moms is absolutely justified because there are many studies that show the use of poor quality plastic bottles may increase the risk of cancer and certain changes in the brain and reproductive system. Therefore, choosing the perfect baby bottle maker become very important to get the best and safe baby bottles for your baby. In this post, we will discuss a few key tips on how to choose the perfect baby bottle maker.
1. Bottle Material
When you are shopping for the baby bottles in the market, this is the first thing you should pay attention to. What kind of material your baby bottle maker is using? These days departmental stores are flooded with all sorts of baby bottles including glass bottles, steel bottles, silicon ones, and obviously, most sold plastic bottles. All the plastic bottles sold in U.S.A today are BPA free, but there are many other chemicals in the plastic baby bottles that may cause dangerous side effects. So choose the baby bottle maker that use safe grade and high-quality plastic for manufacturing of baby bottles. Experts suggest purchasing the plastic baby bottles with symbol #1, #2, #4 or #5. All of these are BPA free, PVC free and phthalates free.
2. Nipple material
When it comes to nipple material, there is no match to silicon nipple. Breast like Silicon nipple is easy to latch on, simulates natural nipple, and holds its shape longer. Although more flexible latex nipples are available out there and inexpensive than silicon nipples but these nipples do not last long, lose their shape easily, and some babies are allergic to latex nipple as well. So spending a few cents extra on silicon nipple is worth spending.
3. Bottle and nipple shape
If your baby doesn't like the feel of a bottle, he or she will not use it. It is as simple as that. But in reality, you cannot determine what your baby would love to have. Therefore, try to choose the shape of a bottle that is easy to grip by the little hands of your baby. Many bottles in the market claimed to be easier for babies to hold and have an ergonomic design which makes thing comfortable for your baby. And nipple shape is easy to choose. Look for breast-like nipples so that it allows easy transition between bottle and breast and feel more like mom's breast.
4. Additional features
Tired of mixing formula with hands? Ever imagined a baby bottle that mixes the formula automatically. Finally, you have an alternative. There are some baby bottle makers who are providing an additional feature of blending in baby bottles. These new modern baby bottles contain a blender inside the bottle that mix the formula properly just with a push of a button. This additional feature allows mums to spend more energy and time with the baby rather than shaking the bottle.
Anti colic baby bottles are also high in demand these days. Anti colic baby bottles contain vents that allow excessive air inside the bottle to pass through the vents and reduce the amount of air your baby swallows with milk. Look for baby bottles that have some additional features focused on solving at least some of your problems.            
5. Reviews
It is a great way to know the things about the baby bottle which baby bottle maker will not tell you. Read the reviews of customers before placing the order. It will help you understand what to expect from your product. There will be some negative reviews as well even for good products because it is impossible to satisfy moms. But make sure the baby bottle you are buying has consistent positive reviews and recommendations.
So these are the five tips that can really ease the task of choosing the perfect baby bottle maker.