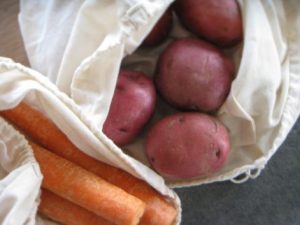 The right thing to do for the environment stops the use of plastic. One simple step towards this right step is to use reusable vegetable bags. Once you find the right reusable bags; you can get extensive use out of them. You can easily find quality reusable bags that are economical and long-lasting.
Here are some tips for finding quality reusable vegetable bags. 
Check different stores.
If you are buying reusable bags for the first time; it is a good idea to check them out at different stores before making your selection. One convenient way to check different stores in a short amount of time is to go online. Checking different online stores is also a good idea if you are not satisfied with your previous purchase of reusable bags.
When you shop online, you are not restricted by geography and have better chances of finding quality products. Conduct a simple online search using the keywords 'reusable vegetable bags' and look at the selection of different stores.
Browse all the items available for sale at the store. Check their descriptions and costs. Read the shipping, return, and refund policy of the seller before purchasing their ware. Perhaps you would want to return the bags unused if you don't find them to your satisfaction in terms of color, style, or quality. So, you should be able to return them without hassle. Also, find out about the delivery time of the seller beforehand.
You can also check online reviews of the people who have bought and used the bags from the seller you are considering. Once you are satisfied with all the above criteria; only then consider other factors in detail.
Now, what do you need to consider when finding the reusable bags for your requirements? You will need to check for the material, sizes, and the costs of the bags to find the perfect ones for your requirement.
Look for organic cotton bags.
When buying reusable bags; it is better to choose organic cotton as their material. Organic cotton is not only biodegradable; it is also completely non-toxic. You won't have to worry about the material of the storage bag releasing toxins into the stored food items with organic cotton tote bags.
Look for bags, which are certified by GOTS (The Global Organic Textile Standard). When you buy GOTS-certified bags; you can be 100% sure that they are made with organic cotton without any synthetic blends. GOTS is the top certification body worldwide for all types of organic fibers. The organization doesn't certify any material without on-site and proper inspection.
Select the right sizes.
When buying reusable bags, you also need to find the right sizes for your use. Once you are satisfied with the material of the bags, it is time to look at the different sizes available with the seller. Ideally, you should buy reusable bags from small to extra large sizes. It will help you to use them as per your different shopping requirements.
You may not always require large-sized bags for your grocery shopping. So, when you need to go to the market for quick shopping of fresh vegetables; you can use a small or medium bag. Smaller sized-bags are also useful for storing the fresh items you buy for your weekly food needs.
Check if multipurpose use is possible.
If the quality of cotton is good; you may be able to use your reusable vegetable bags for other purposes also. For instance, cotton grocery bags can also be used to store herbs, spices, and nuts. You can also wrap silverware to control the amount of damage to them (tarnish) due to oxidation. You can also use organic cotton bags to store children's toys.
You don't need to limit the use of your reusable cotton bags.
Consider all the costs.
When buying cotton reusable bags from online stores; you must consider all costs, such as shipping charges. Many online sellers waive the shipping charges depending on your final billing. So, it is a good idea to take advantage of such options. You may also get bags on discounted prices if you buy them in bulk.