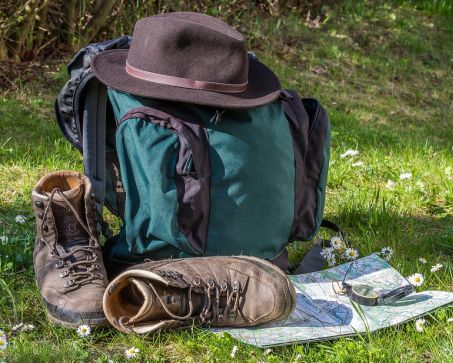 All men who hit the gym regularly know that a gym bag is their greatest companion. Not only does it let you carry around your essentials and valuables with ease, but also lets you make a style statement with its color, design, and the like. Of the many things that you pack for your gym routine, the shoes are one important item. Carrying a pair of shoes in a regular bag is a cumbersome job, given that it can soil everything else around it and is also unhygienic. For this purpose, many brands of gyms bags offer those with shoe compartments. Such a design is can be extremely tempting to buy given its feature, but before you make the purchase decision, look for these as well.
Compartments for valuables and electronic gadgets
For a lot of men, the gym bag doubles up as their work bag. If such is the case with you, it's important to select a design that has got compartments for your work-related things as well. The primary among these is the laptop, for which the bag needs to have a well in and well-cushioned sleeve. It also helps to have a zip or elastic pockets to hold your phone, earphones, chargers, iPods, and other gadgets or equipment that you carry to work. Though you stock most of your valuables in your wallet, its useful to have a gym bag that can store cards, cash, and keys discreetly.
Compartments for clothes and toiletries
For those of you who switch to work clothes in the gym, having a bag that has space for clothes and toiletries is also a boon. Look for a design that is spacious enough to hold towels, socks, underclothes, shirts, trousers, shampoos, deodorants, body washes, sunscreens, and the like. It is also great if these items can go into designated pouches or pockets than a single large cavity. Also, don't forget about carrying used and sweat-ridden clothes back home. Many new varieties of gym bags carried outward facing compartments for shoes and soiled or used clothes. These large pockets also typically have a vented design to help the clothes dry quickly and not develop an unpleasant odor. Having them on the outer side also makes it easy for you to access clothes and shoes when clearing or changing.
Straps for a yoga mat
If your workout routine involves yoga, the mat is an indispensable item in your small gym bag. For this purpose, many bags come with straps that allow easy dispersal of the mat for use. The straps are typically fitted to the outside and let you carry the yoga mat as an attachment rather than something stuffed inside a compartment. Look for a bag with adjustable straps to accommodate different mat sizes and thicknesses with ease.
Pockets for water bottles and snacks
Water bottles are a staple in any gym bag, and it's compulsory that a piece you buy has them preferably on the outside, for ease of access. It's also good to have pouches for snacks and bars if you like to munch after the gym on your way back home or to work.
Travel-friendly design
Having so many compartments is a boon as most gym bags with shoe compartments also double up as travel bags. However, for this, the bag also needs to be lightweight and easy to carry (with suitable, cushioned straps) so that you are not burdened with heavy luggage where you go.
Good quality materials
While features and functionality are one part of the selection process, the other is the durability. The life of the bag is extremely dependent on the material that it is made from. Nylon and polyester are good choices as they are easy to clean and care for in addition to being tough in everyday use and wear and tear. Not just the material on the outside, but the lining present inside to matters. This protects sensitive items like sunglasses and phone screens from developing scratches. The inner lining is also means to add a funky style statement with contrast colors and printed designs. Now that you know what matters in the purchase of a mens gym bag with shoe compartment go ahead and assess your choice and pick the right and comfortable one.