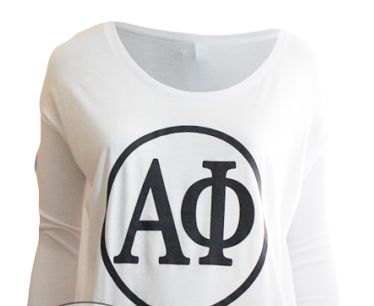 You take great pride in being a member of Alpha Phi and never miss an opportunity to display the love for your organization with custom-printed or embroidered Alpha Phi clothing. The best place for you to shop for such customized Greek apparel is an online vendor who specializes in the same. Whether you decide to buy just one piece or place a bulk order for clothing emblazoned with the letters of your Greek organization, here are a few quick tips that can be of help.
Buy quality products
You may place an order for a customized Alpha Phi top, bottom, or accessory for a particular event. However, in reality, you are going to wear it a lot of times after the event ends – to classes, graduation days, alumni meetings, and so on depending on what kind of clothing you choose. These apparel and accessories are not just items to be worn. They carry with them fond memories of your Greek life days in school or college and are cherished possession that you will want to hold on to for a lifetime. For this reason, it is important that you invest in a quality product than something you will throw away after one or two uses.
Opt for unique designs
Every Greek organization is different, and so is every chapter within the organization. Hence, it is only appropriate that you carry forward this uniqueness to the customized Alpha Phi apparel that you wear. While the silver and Bordeaux insignia, as well as the Greek letters, are an integral part of every design, don't shy away from creating something wholly from scratch. This helps make the clothing truly your own. Another option is to mix and match inspiration from multiple sources and apply out of the box ideas to these designs, for a personalized touch.
Look for easy online ordering
Today, there exist many suppliers who offer customized Greek apparel. Most of them have an online presence, typically a website through which you can place the order for customized shirts, t-shirts, jerseys, pullovers, bottoms, and more. Placing an order online is simpler and quicker as there are a set of steps that need to be followed one after the other. These typically involve choosing a garment style, selecting the color, describing the design, selecting the embellishment type (print, embroidery, etc.), listing down the quantity and sizes, receiving price quotes, and finally confirming the order. When buying Alpha Phi clothing, look for an online vendor, as it also helps you collaborate with your sisters if needed.
Check for minimums
Vendors of customized Greek apparel typically work on bulk orders, and it is common that they have a minimum order quantity in place. However, some of them do accept orders below minimum quantities by allowing you to customize even a single piece, but with an added price. Some of them provide an alternative to such needs – they carry a set of ready-to-ship merchandise with varied print or embroidery designs of your Greek organization.
Pay attention to service features
The physical products make one part of your order, the service offered by the vendor being the other. While narrowing down on the vendor, pay attention not just to the quality of the clothing but also to the additional services that they offer. Since customized clothing involves a lot of developmental work, it helps to have a design or style representative who can assist you with multiple aspects of the order. Opt for a supplier who not just takes note of your requirements but also gives you suggestions on what's trending, what's best suited for the occasion, how to alter specifications to meet budgets and so on. Check for payment terms – some of them insist on a part or full payment to proceed with the order. Also, ask for services that are covered in the cost – some suppliers charge additionally for new developments, while some of them carry it out for free. A few suppliers include delivery costs with their price quotes while others charge them over and above the garment prices. Be sure to discuss these details with your supplier and to pay attention to these quick tips so that you are not in for a surprise in the eleventh hour.