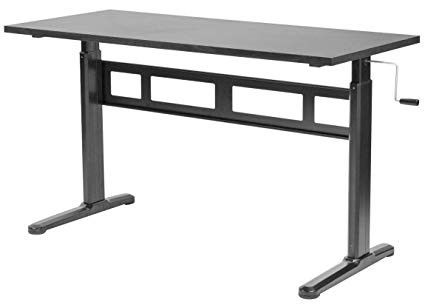 Arguably, the height adjustable desk is the best solution for getting rid of your sitting problems. They have different functions as one can easily change the height of the work surface without removing the monitor, knick-knacks, reference materials, and keyboard from the desk. They also possess a shining and a good look but more than this there are some point's one need to consider while buying these desks.
Cost – Nowadays everyone has become price conscious so, many shoppers look for the price tag first. The minimum price one can get a desk is five hundred dollars, and according to the various functionalities, the rate would go up. The desks are available in various configurations, and it differs from manufacturer to manufacturer. One needs to know the shipping charges, customization options, taxes, and other costs.
Stability and Sturdiness – The height-adjustable desk must be sturdy enough so that it remains stable at any height. This is crucial when you are adding a monitor arm, any accessory, under-desk keyboard tray that would help in amplifying the desk movement. Look for more legs as they make a desk sturdier. Even a pedestal-style or a single-legged desk can be functional and sturdy. Factors like the style, shape, size of the desk legs and the feet can affect how stable the desk is. For more stability, look for C-shaped legs, heavier materials, cross bars that connect the legs, frame construction and wider feet.
Height –Adjustability – This mechanism must be checked whether it is electrically adjusted with the help of a head – crank or any other method for smooth movement. Most height adjustable desks with electric motors can be controlled electronically. Look for a controller that has the option for storing various preset heights. There are desks that have smart features, which remind you to change the height after a certain time.
Height – Change Rate of the Desk – This rate matters to you if you frequently shift from sitting to standing position. Electrically adjustable desks have adjustment rate in inches per second while the hand-crank models have inches per revolution. Some counterbalance model desks adjust quickly but have a low weight capacity. Whatever model you are choosing to buy, check the adjustment rate that you are comfortable.
Warranty – All height adjustable desks have a warranty period. Some warranties cover the full desk for a certain time period, but one can also find that there are different warranty periods for various desk components. Take, for example, some manufacturers provide a shorter warranty on electric components and motors than the desktop and the frame. A warranty period gives you a fair idea of how confident the manufacturer is about the reliability of their product.
Delivery and Shipping – Many vendors will ship your desk in the continental US without charging extra, but some will charge a minimal fee for domestic shipping. Everyone will charge for international shipping. Depending on the packaging of the desk and the shipping policies, it will be shipped by using one of the methods mentioned below.
• Standard Ground Delivery method – Top carriers use this method and one can able to track their shipment and can communicate with the carrier via their toll-free number or online chat. The desk would be delivered directly at your doorstep.
• Freight Carrier – They operate differently than the consumer-oriented carriers. You have to arrange a particular delivery time and location with your carrier, and they would leave your package on the sidewalk but not at your doorstep. If you want your desk to be delivered at your home, then you need to pay additional charges.
• Freight Forwarder – The international shipments are often sent through the freight forwarding services. They accept domestic delivery at a specific US location and then ship the desk with the help of various international carriers.
• International Carrier – There are vendors who provide direct services to have your desk delivered at international locations or to Hawaii or Alaska. The end delivery depends on which carrier the shipper uses to deliver the product.