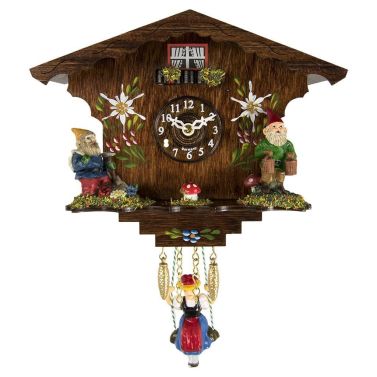 Hermle Clocks was founded in 1922, and since then, they are producing high quality, authentic and original mechanical cuckoo clocks. Hermle Clocks are sold in more than 100 countries.
But when you are buying your first Hermle cuckoo clock, you might find yourself a bit confused because there are a lot of decisions to be made. Today we will look at the steps to choose Hermle cuckoo clocks so that you can select clock that will bring joy for many years.
Step 1: Choose the Style
The first thing you need to do to narrow down your search is choose the style of cuckoo clock. Two main styles of cuckoo clocks are the Carved style cuckoo clock and Chalet style cuckoo clocks. These two styles are popular among the buyer and collectors all around the globe.
Carved Style Cuckoo Clocks
Carved style cuckoo clocks have beautiful carvings attached to the case. These clocks feature beautifully carved birds, deer, eagles, leaves, trees, or owl. These clocks usually depict the scene of black forest nature with animals or hunting theme. Carved style cuckoo clocks are also referred to as traditional style cuckoo clocks.
Chalet Style Cuckoo Clocks
Chalet style cuckoo clocks show themes common in the Black Forest Region and Alpine farming lifestyle. These clocks display finely carved details and have active animations like wood chopper chopping, bell ringer ringing, mill wheel turning, beer stains raising and happy couples dancing to the music. These clocks depict the scene of everyday life.
Once you know what style of Hermle cuckoo clocks you want, you can easily focus on other aspects.
Step 2: Choose Clock Movements
This is one of the most important decisions you need to make. Cuckoo clocks usually have two types of clock movements. One is mechanical clock movement, and other is quartz clock movement.
Mechanical Movement
Mechanical clock movements are powered by the weights and gravity. These movements are common in Black Forest cuckoo clocks. Even, in order to achieve VdS certification, a cuckoo clock must be driven by mechanical movement.
Mechanical movements require regular winding in order for the clock to continue working. Two options of mechanical clock movements are available. One is the 1-day movement, and other is 8-day mechanical movement. 1-day movement clock requires winding after every 24 hours, and 8-day movement clock needs to be wound once in a week to keep time accurately.
Quartz Movement
Quartz clock movements are powered by batteries and take away the need of regular winding. Maintenance of these movements is simple and only requires changing of battery once every year. These movements are alternative to mechanical movements and usually found in low priced cuckoo clocks.
Choose movement of a cuckoo clock as per your personal preferences.
Step 3: Decide on Music and Melodies
We all love the sound of the cuckoo call, but there is a lot more to enjoy. Cuckoo clock with musical elements plays the traditional German songs and melodies. A Black Forest cuckoo clock usually has two different melodies. Carved cuckoo clock will likely to contain popular German folk songs such as "Edelweiss" and "The Happy Wanderer." And, chalet cuckoo clocks play melodies such as "In München steht ein Hofbräuhaus" or "Trink, BrüderleinTrink." Music notes range from 18 to 36 notes in most cuckoo clocks. Higher the number of notes richer the quality of music and also more is the price.
Step 4: Choose Sound Shut Off Option
This might be the most helpful feature of a cuckoo clock. You can shut the sound of your clock using night shut off/ sound shut off feature. Night shut off is basically of two types. First is manual shut-off, and second is an automatic shut-off. Many clocks have a manual shut-off option. All you need to do to shut the sound is pull a lever hanged to a clock. However, automatic shut-off clock automatically shut sound at night. Choose the shut-off mechanism as per your specific needs.
So these are the four steps to choose Hermle cuckoo clocks. Hope you will be able to find the right cuckoo clock for your home.