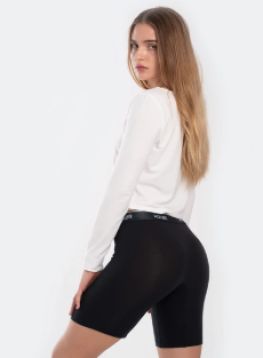 Daily-use underwear is not the most interesting type of clothing to go shopping for (unless it's lingerie), however, it is important because ending up with the wrong pair of panties can be a nightmare. Pinching, sagging, rising, or rolling underwear can all mean separate horror shows for you, so you want to take your sweet time picking out the right pair. Once you have narrowed it down to the right fit and your ideal fabric, finding comfortable underwear isn't necessarily tough. There might be some factors to be aware of while going shopping for them, but once you've given this article a thorough read, you should be good to go!
Boxer Brief for Women: WHY?
There are so many kinds of women's underwear; briefs, bikini, hip-huggers, thongs, G-strings, boy shorts, you name it! Boxer briefs (otherwise known as boy shorts) are strangely in demand because many women find them very comfortable and oddly appealing. If you've ever checked yourself out in a pair of boxer briefs, you know what we're talking about.
Before we dive into the list of things to consider while shopping for boxer briefs, here are two major benefits of adorning them over other kinds of women's underwear!
1. Complimenting Your Backside
If you have a larger backside, women's boxer briefs are your new best friend. A pear-shaped body may appear godly, but with the right pair of boxer briefs, you'll never feel more comfortable. Since most of your weight is carried in your behind, boxer briefs actually cover up the maximum amount of skin (as opposed to say a thong or even bikini briefs). The trick is to look for a seamless pair that doesn't show the outlines of your underwear under clothing. Another great thing about these underwear is that they work on almost every body type!
2. Works Well with Your Belly Fat
Women's boxer briefs are more than just the aesthetic appeal. If you have some belly fat to cover up, get yourself a hot pair of high-waisted boxer briefs! Even though most people feel that large-bellied people would be more comfortable with a lower waistband, this would only result in further bunching and rolling at the belly. You want to get some high-waisted boxer briefs with elasticated waistbands to keep your belly fat tucked away while exuding your beautiful curves. Needless to say, this option is great for the curvacious and hour-glass figures!
Women's Boxer Briefs: What to Look for?
1. The Perfect Fit
Needless to say, you want to get underwear that doesn't bunch or ride up while sitting or moving around. If you're looking for online options, be careful with the fit. Your safest bet is to measure your waist and hips first and pen down your measurements. While selecting your size online, double-check your measurements in the sizing information, because more often than not, underwear cannot be returned once ordered. Better safe than sorry, ladies!
2. Fish for Firm Elastic
You don't want to keep pulling at your underwear throughout the day. Make sure the underwear you select has a firm elastic waistband so as to ensure that it stays in place. While this is effective, make sure not to go for options that have elastic in their leg holes. This may lead to further bunching up, which in turn becomes an uncomfortable situation.
3. Non-Tight, Seamless Options
You don't want to get underwear that is too tight, because that just leads to unflattering lumps under your clothing. But it's more than just what happens above the surface: tight underwear also leads to skin chafing and irritable friction. Also, when you find the right fit, make sure to buy yourself seamless underwear. Even if your underwear is not too tight, it may show its lines under clothes, so never take the risk of buying non-seamless underwear (ever, ladies!)
4. Nailing the Right Fabric
Make sure your underwear is made of breathable fabric. Needless to say, your crotch cannot be tied down: you don't want moisture to build up in that area and create a sweaty scenario you will have to deal with later. Cotton is the king for comfortable underwear, so whenever in doubt, go for cotton options! But also keep in mind that cotton, while most comfortable, isn't always the most flattering to the eye under clothing. If you want a slimmer fit, go for stretchy synthetic fabrics like spandex, lycra or nylon!