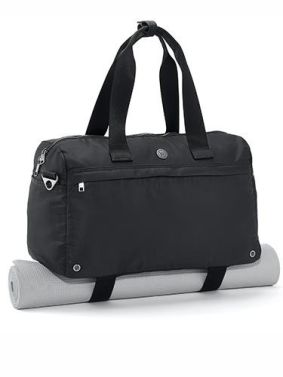 A gym bag with a yoga mat holder can be the bag you didn't know you needed until you actually use it.
Why not then buy one with this functionality before you wish you had a gym bag with this feature? First, you may think, you can simply carry the mat in your hands. Second, you may assume that it can be really easy to lug it around every day during your commute. Perhaps you have your own reason to not use a gym bag with yoga mat holder. But here's why you need it and need it now.
It offers an easier way to carry your yoga mat
If you are a yoga enthusiast who needs her regular sessions of this wonderful mind-body routine then you might already have a bag for your needs. If your gym bag has a yoga mat holder then you are already set. But if this is not the case then you might have already struggled to carry your mat from one place to another.
A crowded subway commute with a yoga mat on the side of your arms can get uncomfortable really fast. If you are carrying other stuff in your hands such as your office bag or office/gym bag among other things; holding onto your yoga mat can become a pain in your shoulder (or back or arms, choose your pick).
It is also easy to lose your yoga mat when it is just extra stuff in your hands. You can forget it in the subway, cab, your office, even at your gym. You can even forget to bring it with you when you start from your home for your yoga class.
When you carry the mat in your hands, you also risk losing it. If your mat is top quality then it is just money wasted if you end up losing it. When you carry the mat in your hands (or under your arms), you also risk damaging it. In a crowded subway, one push or shove with a pointy thing can lead to tears in the material. You can drop it while walking and it can become damaged or dirty. Using a bag is simply a convenient and also safe way to carry your yoga mat.
You have the option (so why not)
Yes, why not use a gym bag with yoga mat holder when you actually have the option available for you. Most quality brands now make gym bags with yoga mat holders to cater to a varied range of consumers.
You can now buy a stylish gym bag with yoga mat holder that you can even remove when not in use. If you wish to use one gym bag for different workout sessions, you can easily remove the holder when you are not going for the yoga class.
You can choose a shoulder bag with a quick-release yoga mat holder or a duffel bag with the same option. When buying a gym bag with yoga mat holder, you won't find the style range limited. You can buy almost any type of gym bag now that comes with a yoga mat holder given the popularity of this holistic routine. Choose a gym bag made with ballistic nylon and plenty of room for all your gym essentials. You can even buy gym bags with ample room to store your laptop safely if you need to carry it to your office as well. For your added comfort, choose a style with a removable yoga mat holder.
If you buy a gym bag with yoga mat holder, you won't need to use a separate bag for your yoga classes or carry the mat in your hands.
It looks good.
A gym bag now is the perfect fashion accessory for both men and women. A gym bag with yoga mat holder adds another layer of style component to your attractive gym bag. Yes, why not showcase your penchant for yoga and fashion with a nice gym bag? Such bags are now trendy and here to stay. With the comfort they offer to the user, these bags are not going away any time soon.