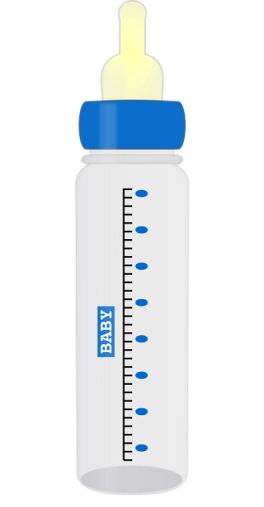 Babies may be bottle fed exclusively or they may be fed formula milk alongside breast milk. It is also common for working moms to pump out breast milk for their babies, to be fed through bottles later on. Feeding a baby using a bottle however increases the chance of them sucking up air and in turn, feeling gassy. Thankfully there's a solution to this – anti-colic bottles. Choosing the best baby bottle to prevent gas is similar to picking the right feeding bottle for your baby, but also includes other considerations. Here's what you need to keep in mind when buying these specialized bottles.
# 1 – Pick bottles that resemble natural feeding
Whether your baby is being bottle fed exclusively or if he's being switched between bottle and breast milk, the one thing that you want is for him to be comfortable when feeding. Too much milk flowing in can irritate him or too little may later make him lazy to suck out enough breast milk later. For this reason, it is important to pick bottles with the right flow. Another thing to pay attention to is the design of the nipple. The more closely it resembles your natural nipple, the easier it becomes for your baby to drink up bottle milk without sucking hard or feeling confused.
# 2 – Pick the right size
Most moms think of feeding bottles that prevent gas as a one-time investment, something that you buy when the baby begins bottle feeding and continues to use until he weans off it. However, the one size fits all policy hardly fits when it comes to feeding bottles. The quantity of milk that a baby takes up increases as he grows, and you want the bottle to be able to accommodate this as the change happens. While a smaller bottle works for a newborn or infant, a child who is 18 months or older will need a much larger bottle of milk to satiate his hunger. The best baby bottle that prevents gas is one that helps your little one fill his tummy without drinking up too much or too little.
# 3 – Choose bottles that are free of harmful chemicals
Bottles may make it easier for you to feed your little one, but in the process, he can get introduced to a lot of harmful chemicals, especially those that are used to make the bottles or nipples. The best baby bottles to prevent gas are designed to be free of such nasties like BPA, phthalates, and PVC. Whether you buy these bottles online or from a nearby department store, look specifically for brands or labels that mention this information. This way, you won't need to worry about your baby gulping down dangerous chemicals every time he feeds from the bottle.
# 4 – Buy a multitasker
Many anti-colic bottles today are designed to be blenders too. This makes formula preparation easy and fuss-free for moms or anyone who feeds the baby. When buying the best baby bottles to prevent gas, look for such versatile designs because they can also be a boon in feeding your baby when you step out or travel for long hours. Many mixers also can be used to blend stored breast milk, thus making them ideal for use with mom's milk too. Another advantage is that machine blending ensures lump-free, smooth formulas than a bottle that has been shaken by hands. This, coupled with the anti-colic designs makes gas in babies a worry of the past.
# 5 – Look for portable mixers
Baby bottles on their own easy to carry around, but when they come with other features like formula preparation and blending, may become heavy or difficult to carry around. However, there are many bottle mixer designs in the market that are light, compact, and portable. Many of these can be plugged into electrical sources via USB and contain rechargeable batteries so that you can operate them even when you do not have a power source at your disposal.
Keep in mind the above-mentioned tips when buying the best baby bottles to prevent gas. Rest assured, your little one will feel his comfortable best every time he feeds from the bottle.