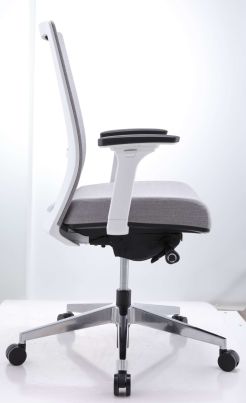 The feel and look of your office portray the character of your business. Office furniture is always a long-term investment. It is one of the important elements of the office that makes your office complete. Initially, the shopping experience will be fun but after a while, it will be a tiring task. It is tricky than you have imagined. You need to consider various factors your priority should be your employees while purchasing the best task chair.
Whether you are starting from scratch or renovating your space, choosing the right task chair will take the time that will last for decades. A proper office design offers comfortable seating for long hours and enhances productivity. It will be a perfect positioning element for your employees and clients. They should be happy and feel inspired when they walk into your office space. Here are a few features and buying tips for your task chair.
Take your time
When assessing the requirements and needs of office employees, always take enough time to do proper research when purchasing a task chair. Never let your impulse to guide you to a decision that you will regret later. If a person's job includes a lot of movement, a static chair will not serve the purpose. When the employees are spending more than 5 to 6 hours on a chair, the chair must provide enough support to the back, encourage movement and keep them from ergonomic hazards.
Comfort should be the top priority
Aesthetics are crucial, but they should not neglect the comfort of your workplace. For pleasing your clients, do not get attracted to trends. Your first priority should always be a comfort because that will ensure a great working environment for the employees.  If you are interested in improving your workplace, invest in innovative ergonomic designs instead of choosing that is just visually appealing. Test the chairs by visiting several stores, sit on them and check the support as well as the comfort they provide.
Caring Employees Needs
Every person has a different body shape the best task chair must cater to all body types. What works for one person may not work for another. As employees will be using the office chairs for the most part of the day, it is crucial for maintaining diversity in your chairs. People with heavyweight will not appreciate chairs with armrest. Shorter and taller people will not be comfortable with no depth and height adjustment feature. Before purchasing a chair please consult with your employees and consider their needs.
Check the design of the Seat Pan
The seat pan must be wide enough and has a waterfall seat design. This will provide better thigh support and allow you to sit in a comfortable position with backrest. An ideal seat pan must be long enough to provide comfort for up to three-quarters of the thigh length. The soft contours of the waterfall seat design allow even weight distribution for proper comfortable seating.
There should be sufficient Lumbar Support
The best task chair must support curved and cushioned lumbar support to the lower area of the back muscles that helps to avoid spinal injuries. Buying chairs from a good brand offers perfect lumbar support.
The backrest must be large enough for comfortable back support
In addition to lumbar support, a large backrest offers both upper-back and mid-back support. Depending on your work and height requirement, you can either opt for a high back chair or medium-back chair for best support.
Check whether the task chair has a chair mechanism?
The task chairs having a synchro-tilt mechanism allow both the back and seat to adjust automatically to body position and in various recline positions. This dynamic sitting will help in providing enough back support.
Always choose quality over price
Cheap furniture deals will lure you into making hasty and impulsive decisions. In order to save a few bucks never compromise on durability and comfort. Such chairs will fall apart after using for a few months. Always think about the long-term benefits and maintain the quality aspect of your chair. If your chair breaks down after a few months, you will definitely hurt your cash flow.